WELCOME TO SPRING CREEK HOLIDAY PARK –
ACCOMMODATION IN BLENHEIM
At Spring Creek Holiday Park you will receive a warm and friendly welcome and an introduction to the magic of Marlborough.
Nestled to the crystal clear waters of Spring Creek and surrounded by trees in a quiet park atmosphere we offer a variety of accommodation at competitive prices and good clean facilities.
Rooms

Our goal is to provide good clean holiday accommodation at an affordable price.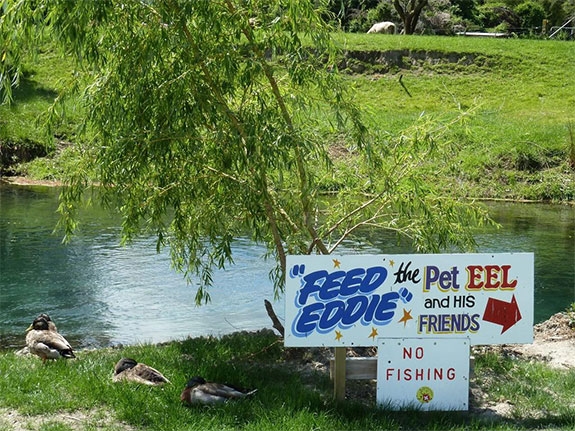 About Spring Creek Holiday Park
The park is located adjacent to the township of Spring Creek, 5 minutes' drive north of Blenheim, 20 minutes south of Picton and close to many attractions:
Local wine tours pick up guests from the park
Vineyard dinning, shopping at Vines village and boutique chocolates
Hiking and biking tracks
History and heritage parks
Cruises, wild life sanctuary, islands and bays
Trout and sea fishing
A traditional New Zealand camp, family orientated, swimming pool, TV room, Barbeques, children's play-ground, WiFi, pet friendly in the park and pet eels waiting to be fed.
History
Dr Francis Longbourne Vickerman took up 1200 acres of land in Spring Creek in 1850 for the growing of wheat. In 1863 the mill and house were built. In 1865 he returned to practice as a medical doctor and sold the property to Mr Henry Redwood Jr. In 1870 his sons Joseph, Henry and Frederick took over the mill, grain store and house. The flour mill was powered by a large water wheel which turned water diverted from a dam upstream. The mill ceased producing in 1905.
The 3.8 acres of grounds around the homestead became a camping ground in 1960's.